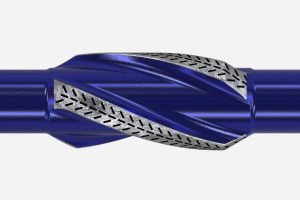 VidDa stabilizers are purpose built with quality and efficiency always in mind. Clients benefit from our frontline expertise.
VidDa offer a wide inventory of both Non-Mag String Stabilizers & Steel String / Near Bit Stabilizers.
Designed to improve stabilization within our customers BHA, our stabilizers offer real-time cost savings by maintaining full gauge for the entire drilling phase and provide versatility for all BHA configurations.
Our stabilizers are hardfaced with industry standard applications ranging from HF1000 to HF5000. However, for abrasive and challenging drilling formations we can offer our customers both Diamond Hardfacing as well as our renowned VDA-HF001 which excels in difficult conditions, including geothermal.
These two premium hardfacing applications can be applied on our stabilizers individually or as a combined hardfacing.
KEY FEATURES
Improves stabilization within the BHA
Offers real-time cost savings
Provides versatility for all BHA configurations, reducing overall drilling costs
SPECIFICATION
Non-Mag Stabilizers are available in sizes 5-5/8″ through to 17-1/2″
Steel String / Near Bit Stabilizers are available in sizes 5-7/8″ through to 36″