VidDa Hawk In-line Inspection System (Crack Detection/Sizing and Metal Loss)
Detection and sizing of cracks and crack-like defects is critical in assessing the integrity and service life of pipelines. By combining exceptional sampling resolution with direct data analysis, the VidDa Hawk ILI system offers highly accurate and detailed inspection results. All individual ultrasonic measurements are saved with raw A-Scan data with up to 1,000,000 measurements recorded per square meter of piping. Combining this exceptional measurement density with highly accurate data review methods allows for the detection and sizing of irregularly shaped defects such as stress-corrosion cracking, hydrogen induced cracking, heat effected zone cracking, electron resistance weld cracking, fatigue cracking, and others. The VidDa Hawk ILI System tools are highly customizable offering axial angle beam inspection with multiple angles, axial + circumferential + metal loss in a single tool, and multiple transducer frequencies. .
UT-MC Hawk ILI System Tool Diagram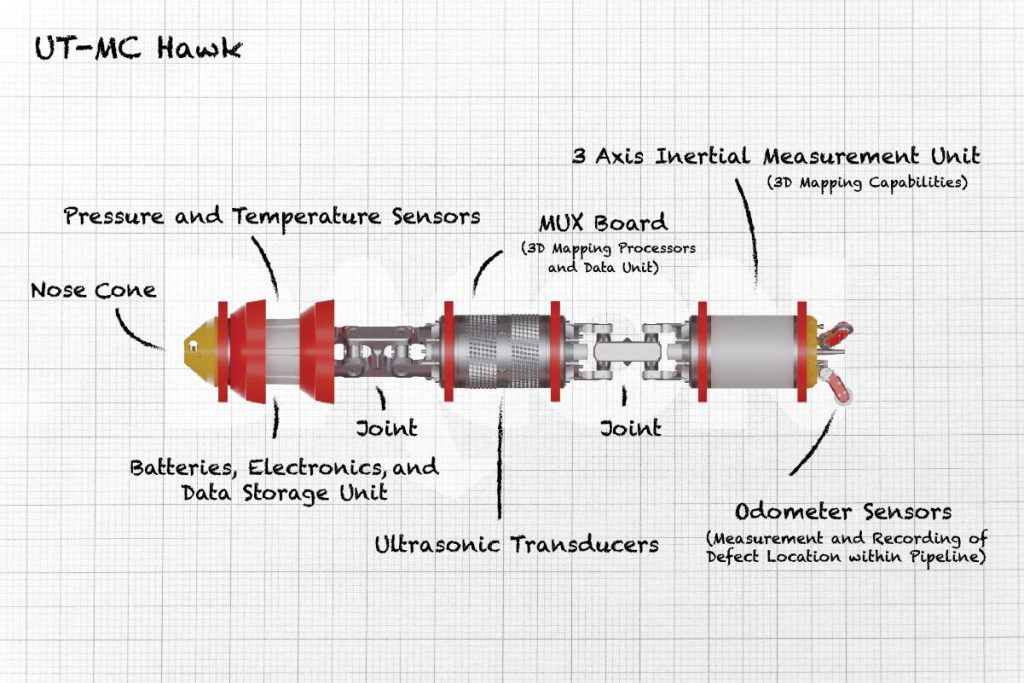 Key advantages, detection capabilities, and specifications can be seen below. Contact a VidDa expert today for more information concerning VidDa in-line inspection services.
Key advantages
Detection of axial and circumferential cracks with through wall propagation of 1.0mm or greater in base material and 1.5 mm or greater in welds
Probability of detection 94% to above sizes

Crack sizing ± 1.0 mm with 85% confidence
Crack sizing ± 1.5 mm with 98% confidence

Adjustable circumferential and axial sampling rates
Crack placement with 98% confidence if attached to I.D./O.D.
Immediate onsite preliminary data verification
Simultaneously performs crack inspection and corrosion/metal loss to POF 2016 specifications
Detection of tilted cracks ±45°
Detection of skewed cracks ±10°
Tool customization available for challenging and difficult (unpiggable) pipelines or projects
Usage, Detection Capabilities, and Tool Specifications
Inspection length: up to 200 km (customization available)
Standard inspection time: 200 hours (customization available)
Maximum tool speed: 2.0 m/s
Maximum pressure: 100 bar
Temperature range: 0°C to 65°C
Wall thickness range: customizable 4 mm-25 mm
Tool sizes available: 3" and greater
On and offshore, subsea, and above ground pipelines
Oil and gas exploration and production, refineries, petrochemical, mining, and heavy industry
Angle beam crack inspection
Multi directional (axial + circumferential inspection available)
Multi-angle inspection available
Extreme sampling density of up to 1,000,000 measurements per square meter
Launching medium: liquid/gas (batching)
Raw A-Scan data recording of all measurements
Automated data analysis and defect detection
Detection and sizing analysis from raw A-Scan data